PLENSETTM
PLENSETTM Electrically conductive type
In-page Navigation

What is the PLENSETTM Electrically conductive type?
As an electrically conductive adhesive, the electrically conductive type combines low-temperature curing at 80degC with conductivity and adhesion.
It can also inhibit galvanic corrosion, which is an issue with general electrically conductive adhesives.
Have you experienced these issues?
Solder cannot be applied due to the inclusion of heat-sensitive components
Mounting and joining components on a flexible substrate
Inhibit galvanic corrosion
Here is the product that resolves these issues. PLENSETTM Electrically conductive type
It can be cured at a low temperature of 80degC, which is unparalleled for a one-component epoxy resin electrically conductive adhesive.
It can be used as a substitute for solder in applications that cannot be subjected to the reflow process, such as those involving heat-sensitive components.
It inhibits galvanic corrosion in high-temperature and high-humidity environments, and suppresses the increase in contact resistance with nickel and tin.
Application example
Alternative for solder
Die attach agent (heat-dissipating)
Electromagnetic shield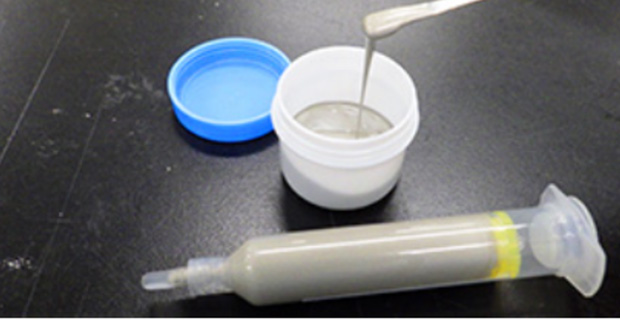 Galvanic corrosion inhibition/electrically conductive adhesives
Issues with general conductive paste
When nickel and tin are used as terminals, the difference in electric potential in high temperature and high humidity environments causes the formation of a battery, which results in galvanic corrosion and increased contact resistance.
When dissimilar metals with different electric potentials are joined, corrosion phenomena occur in high-temperature, high-humidity environments between metals with large potential differences. This phenomenon is known as galvanic corrosion.
Example: Electrically conductive adhesive (Ag) and metal terminal (Sn, Ni, etc.)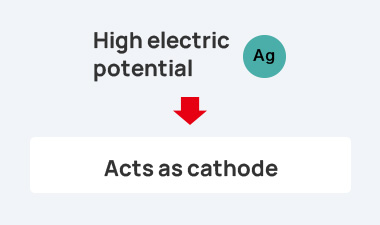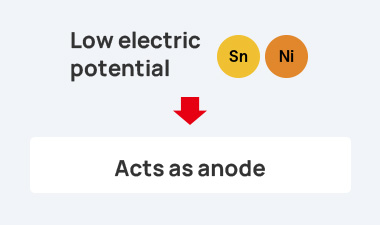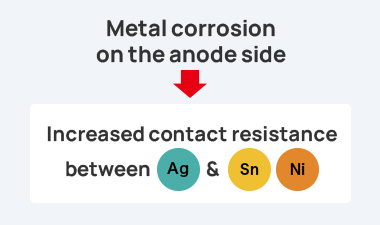 As a result, a battery is formed as shown in the figure, and the contact resistance between the electrically conductive adhesive and the metal terminal increases.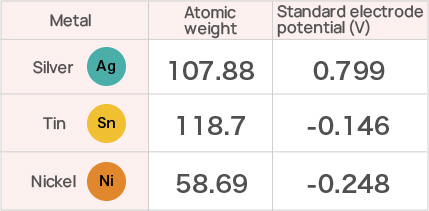 If galvanic corrosion can be inhibited...
Electrically conductive adhesives can be substituted for solder. It also eliminates the need for reflow (high-temperature processing) and flux cleaning, thereby reducing the number of processes and allowing the use of materials with low heat resistance.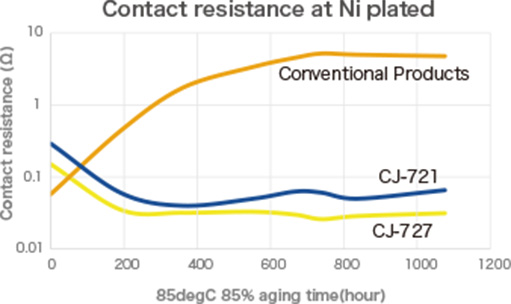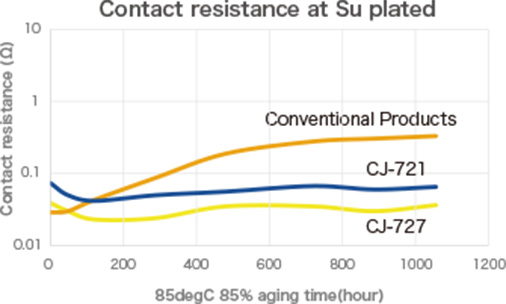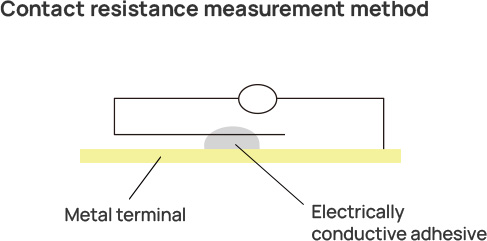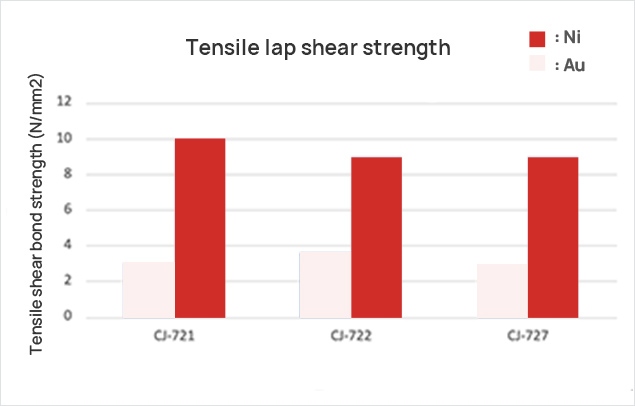 Mounting components on flexible substrates such as PET

Die attach material for chip components

The electrically conductive type offers an appropriate degree of both conductivity and adhesiveness.
Electrically conductive type product details
Refer to the table below.
Item

CJ-721

CJ-722

CJ-727

Conditions

Characteristics

Appearance

Silver paste

Silver paste

Silver paste

Visual inspection

Viscosity

27Pa・s

9.8Pa・s

70Pa・s

E-type viscometer 25degC,5rpm

Thixotropic index

3.2

1.2

4.5

E-type viscometer 25degC,1rpm/5rpm

Standard curing conditions

80degC×60minutes

Oven curing

Properties of cured materials

Tensile lap shear strength

3.0N/㎟

3.6N/㎟

2.8N/㎟

Gold plating

10N/㎟

9N/㎟

9N/㎟

Nickel plating

Specific resistance

12x10¯4;Ω・cm
9x10¯4;Ω・cm
5x10¯4;Ω・cm

Supporter FR-4, 25degC

Thermal conductivity

1.3W/mK

1.7W/mK

1.8W/mK

Hot-disk method
The data in this document are representative values, not standard values. The contents of this document are subject to change without notice.
Application process
Telephone or form inquiry
Inquire about customer issues, required characteristics
Propose and send samples for evaluation
Interview regarding results of evaluation
When it is difficult to use existing products
Consultation and consideration of development themes