A message from President
Striving for ongoing innovation
as a company that creates value
in partnership with our customers
President and Representative director of Ajinomoto Fine-Techno Co., Inc.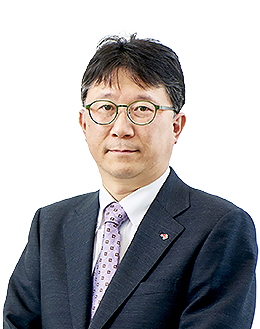 We at Ajinomoto Fine-Techno Co., Inc. conduct operations as a core company of Ajinomoto Group's fine chemical business. September 2022 marked the 80th anniversary of the founding of our predecessor company.
Our vision is to become an "Innovation provider" that offers ongoing innovation, continues to create value together with our customers, and is recognized as a first-class partner.
We are held in high regard by our customers in fields including electronic materials, functional materials, and activated carbon, and have continued to provide solutions to our customers by selling products for a wide range of applications, such as electronics, automotive parts, and industrial materials. Furthermore, by making full use of the four areas of core competence (Molecular design, Compounding design, Process development, and Solution proposal) that we have cultivated since our founding, we are expanding our business into semiconductor packaging and packaging materials, fields that support the cutting edge of electronics.
In order to be a company that continues to create value together with our customers, we will further refine our ability in the area of materials science through research and development, striving to deliver high quality products and high value-added services and information with security, safety, and high quality.
Through our business, we aim to co-create and enhance social and economic value as a company that contributes to the well-being of people, society, and the Earth through AminoScience®, which is the vision of the Ajinomoto Group.
We hope that we can continue to count on your understanding and support.