PLENSETTM
Adhesives & EncapsulantsTM
In-page Navigation

About PLENSETTM
PLENSETTM is a one-component epoxy resin adhesive based on the latent curing agent technologies that Ajinomoto Fine-Techno has accumulated over the years.
Our proprietary curing system makes possible the unique features described below, and plays an important role in various fields such as camera modules and other precision electronic components, semiconductor packaging, and car electronics.
Issues with industrial adhesive and encapsulating materials
Curing at lower temperatures
Relieving stress and bending
Pouring into narrow spaces
Encapsulating or protecting gas
Applying it in situations that demand reliability
Using it as a replacement for solder
Applying it to transparent parts
Since it has curing capability at 80degC and below, it is suitable for assembling electronic components that incorporate heat-sensitive materials.
Low-temperature curing capability enables curing in a few seconds at 120degC or 150degC.
Low-temperature curing capability alleviates stress caused by the shrinkage of the material during cooling.
Resolve your issues with Ajinomoto Fine-Techno's core technologies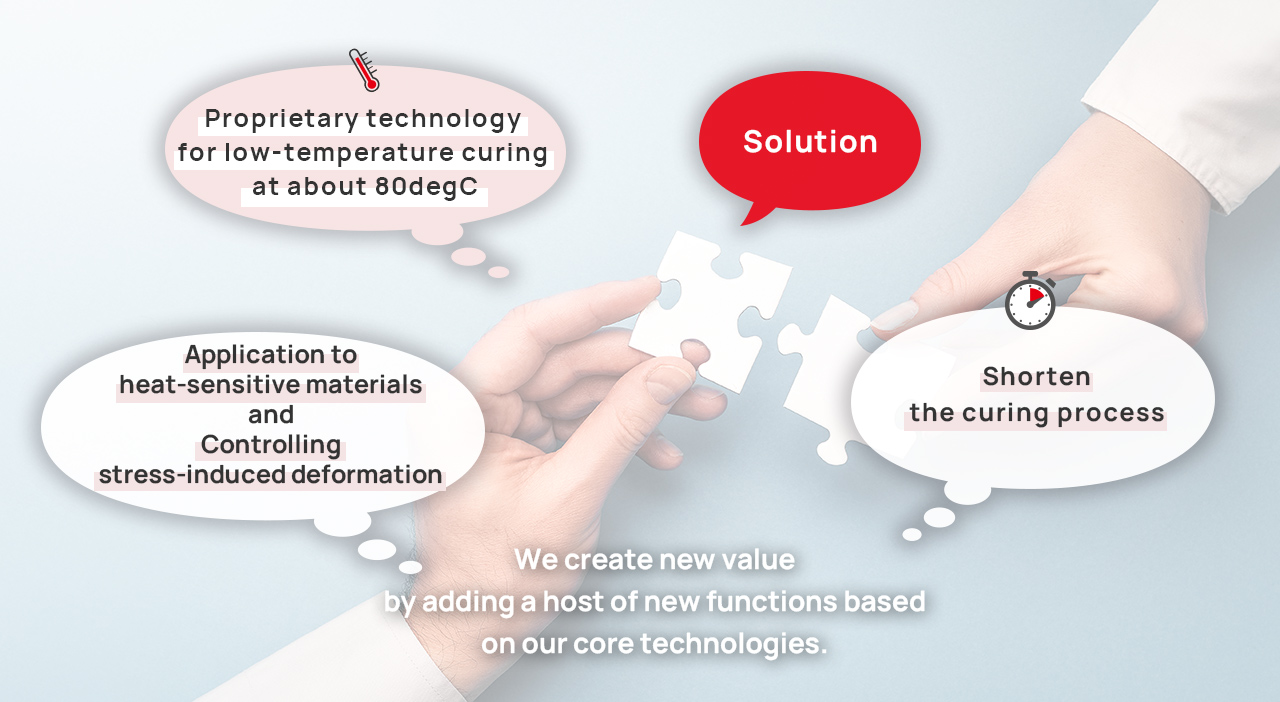 Product features and lineup
Insulation properties
Conductivity
Developing products
Examples and Applications
The ability to cure at 80degC, which is lower than the heat resistance temperature of neodymium magnets, enables adhesion with minimal loss of magnetic force.
Its flexibility and high adhesiveness afford it the superior drop impact resistance required for mobile devices.
The electrically conductive type is applied to electrical connections for parts that cannot be reflowed due to the heat resistance of the parts.
Application process
Telephone or form inquiry
Inquire about customer issues, required characteristics
Propose and send samples for evaluation
Interview regarding results of evaluation
When it is difficult to use existing products
Consultation and consideration of development themes