In-page Navigation

What is Ajinomoto's Insulation film (Ajinomoto Build-up Film® ABF) ?
Ajinomoto Build-Up Film® (ABF) is used as an insulating material for high-performance semiconductors (CPUs), which are the heart of personal computers. ABF currently boasts a share of nearly 100% of the market for Insulation film used in major personal computers worldwide.

Have you experienced these issues?
Irregular printing and bubbles occurring during liquid resin coating result in decreased yield
Need free control of conductor thickness
Eliminating steps such as copper foil removal from semi-additive process
Here is the product that resolves these issues.
Ajinomoto Build-up Film® (ABF)
Benefits of introduction
Compared with liquid coating materials
Yield loss due to bubbles and irregular printing during liquid resin coating can be eliminated. Solvent is not volatilized, nor is the working environment degraded. Both sides can be processed simultaneously, resulting in high productivity and preventing problems caused by the warping of thin sheets. Surface smoothness is superior, and film thickness is easy to control.
Compared with resin-coated copper foil (RCC)Advantageous for fine pattern formation
Easy etching in the panel plating method thanks to free conductor thickness control
Applicable to semi-additive process without extra steps such as copper foil removal
Easy laser processing
The process of copper foil removal prior to laser processing - which is necessary in the case of RCC - is no longer needed.
Compared with photo-via materialsSuperior freedom in design
When stacking multiple insulating layers, via processing can be accomplished not only between layers 1-2 but also between layers 1-3.
Variety/grade
| Variety | Features |
| --- | --- |
| GX-92 | Standard |
| GX-T31 | Low surface roughness, Low CTE |
| GZ-41 | Low surface roughness, Low CTE, High Tg |
| GL-102 | Low surface roughness, Low dielectric loss tangent, Low CTE, High Tg |
Composition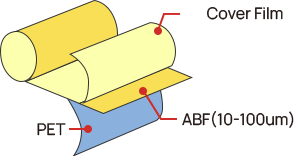 Instructions for use