PLENSETTM
PLENSETTM
No particle type
In-page Navigation

What is the PLENSETTM No particle type?
The PLENSETTM No particle type (AE-700) is a fully liquid one-component adhesive that contains no powder components.
Since the resin and curing agent are dissolved into a liquid, penetration into narrow gaps and complete curing is possible.
Have you experienced these issues?
Uncured separation occurs when pouring into narrow gaps.
To make adhesive thickness as thin as possible, even down to micron scale
Thin-film coating on material surface
Here is the product that resolves these issues. PLENSETTM No particle type
The adhesive is a no particle type that does not contain any powder components.
Enables impregnation bonding to narrow gaps.
The adhesive thickness can be reduced to the level of the surface roughness of the adhesive material.
Solid dispersion one-component type (general products)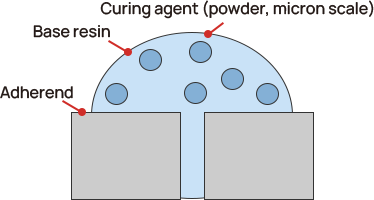 No particle one-component type AE-700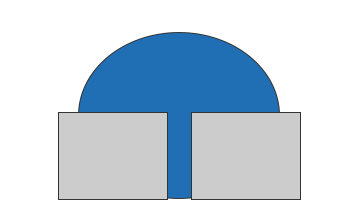 Application
Impregnation bonding into gaps and narrow areas after assembly of parts
Adhesion, fixing of parts attached with screws
Encapsulation of threaded coils, impregnation bonding
Areas where the thinnest possible adhesive thickness is desired
Item

AE-700

Conditions

Characteristics

Color tone and appearance

Brown clear liquid

Visual inspection

Viscosity

11Pa・s

E-type viscometer, 25degC、5rpm

Thixotropic index

1.1

E-type viscometer, 25degC、2rpm/20rpm

Gel time

18minutes/120degC

Hot plate

Standard curing conditions

120degC×30minutes

Hot air circulation oven

Properties of cured materials

Tensile lap shear strength

22N/㎟

JIS K-6850 (Steel plate)

Glass transition temperature

53degC

TMA measurement

Thermal expansion coefficient

α1

75ppm

α2

185ppm
The data in this document are representative values, not standard values. The contents of this document are subject to change without notice.
Application process
Telephone or form inquiry
Inquire about customer issues, required characteristics
Propose and send samples for evaluation
Interview regarding results of evaluation
When it is difficult to use existing products
Consultation and consideration of development themes