AFTINNOVATM EF(AEF)series
Moisture barrier adhesive/encapsulation film
In-page Navigation

FD, EB, and SE Series


What is moisture barrier adhesive/encapsulation film?

It is an adhesive/encapsulation film well-suited for encapsulating moisture-sensitive devices such as OLEDs and conductive substrates.
A simple lamination process enables film thickness control, which is difficult with liquid encapsulation.
We also offer transparent and pressure-sensitive types for which room-temperature encapsulation is possible.

Have you experienced these issues?
Protecting the element from water vapor and oxygen
Avoiding application of heat during encapsulation
Need encapsulant that provides transparency
Here is the product that resolves these issues.
Moisture barrier adhesive/encapsulation film
Lineup and features
Pressure-sensitive type
(Room-temperature encapsulation possible)

FD series

Achieves transparency, moisture absorption, and adhesion, and has good flex resistance.

EB series

High-reliability type, non-transparent

Low-temperature thermosetting type

SE series

Low-temperature curing at 100degC, good embedability, non-transparent
Evaluation item

Unit

FD28

EB01

SE03

General OCA

Condition

Feature

-

Transparency

High reliability

Thermosetting

Cure condition

-

No need(PSA type)

100deg.C - 30min

-

Standard Thickness

μm

10, 20, 50

25, 50

-

-

90deg. peel strength

gf/cm

700

400

650

500

Al foil/Adhesive/Glass

Transmittance

%

90

50

Non-transparent

>90

D65

Barrier ability
Ca test, 85deg.C-85%RH

hrs.

160

1000

60

<24

Bezel: 2 mm
These data are measurement values, not the values for guaranteeing.
The contents in this sheet may be revised without prior notice.
Application example
Prevents water vapor ingress and increases reliability in OLED and transparent electrode encapsulation applications.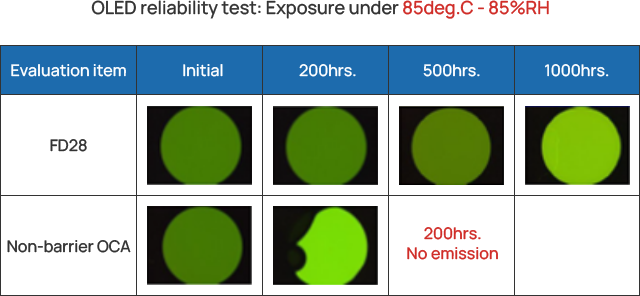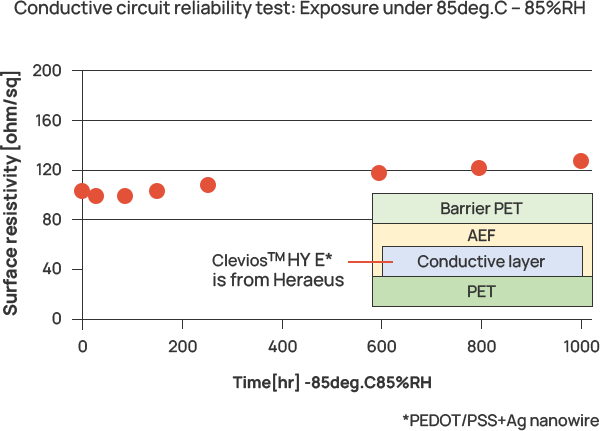 Application process
Telephone or form inquiry
Inquire about customer issues, required characteristics
Propose and send samples for evaluation
Interview regarding results of evaluation
When it is difficult to use existing products
Consultation and consideration of development themes
AFTINNOVATM EF(AEF)series