AFTINNOVATM EF series "AEF" series
Optical adhesive film
In-page Navigation

FA series
What is optical adhesive film?
Optical clear adhesive (OCA) with good flex resistance.
Excellent strain recovery and low elasticity across a wide temperature range.
It is also suitable for applications that require low moisture permeability and dielectric constant.
Have you experienced these issues?
Need adhesive film with superior repeatable bendability
Need transparent adhesive film
Looking for adhesive film with low dielectric and moisture permeability
Here is the product that resolves these issues. FA series Optical adhesive film
Displays low elasticity across a wide temperature range.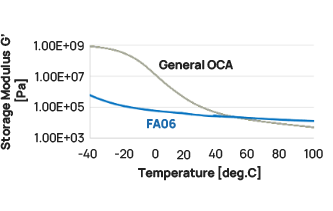 The strain recovery rate is high, resulting in good flex resistance.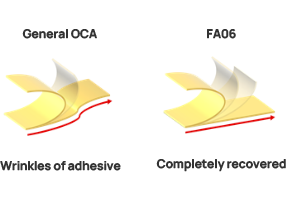 It has lower moisture permeability and dielectric than typical OCA, making it suitable for use in electronic devices.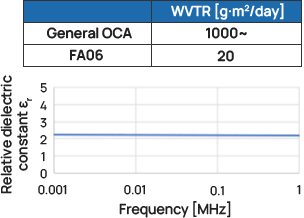 Typical characteristics
Evaluation item

Unit

FA06

Remark

Standard Thickness

μm

25,50

Transparency

%

91.8

D65

Haze

%

<1.0

D65

180deg. Peel strenght

gf/cm

1050

PET / OCA / PI

Tg

deg.C

-55

tanδ Peak

Strain Recovery test
Max strain

%

802

1st.95kPa - 5sec
2nd.0Pa - 60 sec.
Strain Recovery test
Recovery

%

91
Bending test

Curvature radius

1.0mm

Structure

PI / FA06 / PI

Condition

60deg.C / 90% RH

Counts

100,000

Inner

PI(25μm)

PI(50μm)

Outer

PI(50μm)

PI(25μm)

Appearance of FA06

Good

Good
These data are measurement values, not the values for guaranteeing.
The contents in this sheet may be revised without prior notice.
Application example
Flexible display, OLED peripheral substrate material, etc.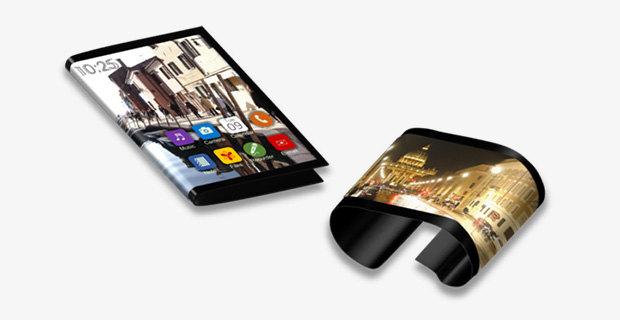 Application process
Telephone or form inquiry
Inquire about customer issues, required characteristics
Propose and send samples for evaluation
Interview regarding results of evaluation
When it is difficult to use existing products
Consultation and consideration of development themes